Introduction
Opioid prescribing for persistent pain has risen dramatically across many developed countries throughout the world. Dr John Bedson, a GP and epidemiologist from Stoke-on-Trent, describes some of the trends we have seen in the UK in the brief presentation below.
Headlines from the latest data on Opioid Prescribing in England
Curtis (2019) Lancet Psychiatry 2019; 6: 140–50
Between 1998 and 2016,
Opioid prescriptions in England increased by 34% overall & by 127% after adjusting for morphine equivalence.
There was a large, rapid increase in high-dose (> 120mg morphine equivalent dose(MED)) long-acting opioid prescribing.
The number of high dose prescriptions increased by 581% from 3 to 23 per 1000 population.
Fentanyl, morphine, and oxycodone, together accounted for more than 90% of high dose long-acting opioid prescribing in 2016. Oxycodone prescribing having increased the most since becoming available in 2000.
There is considerable variation in opioid prescribing between different CCGs across England with a 6-fold variation in the number of opioid items prescribed and an 8-fold variation in MED per 1000 patients.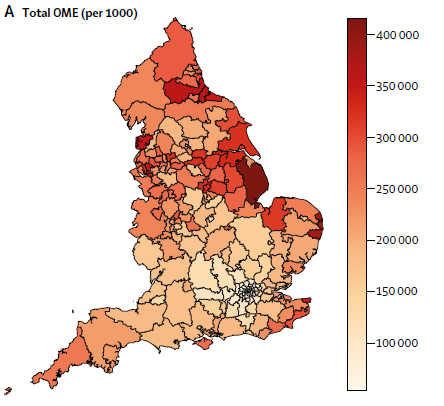 Higher levels of GP practice-level opioid prescribing have been associated with larger practice size, more rural location and higher deprivation score.
If every practice in the country prescribed high-dose opioids at the same rate as those in the lowest 10% it has been estimated that, over a 6-month period, 543 000 fewer high dose prescriptions could have been issued (from a total of 601 000) with a cost saving of £24·8 million.
Has opioid prescribing peaked?
There is some evidence to suggest a slowing of the rising trend in opioid prescribing, but this is not consistent between geographical areas.
Overall opioid prescribing in England started to plateau around 2014 and there was an overall slight decline between 2016-2017.
However, beneath this trend lies a wide variation and the change in total opioid prescribing between 2016-2017 across CCGs in England ranged from a 10.5% decrease to a 3.5% increase.
How does my practice compare?
If you haven't already, find out how opioid prescribing in your practice compares to national averages by visiting openprescribing.net it's free to access. You'll get graphs like this one showing total opioid prescribing (morphine equivalent) per 1000 registered patients and you can also find out what proportion of this prescribing is to patients on high daily doses.