Mr A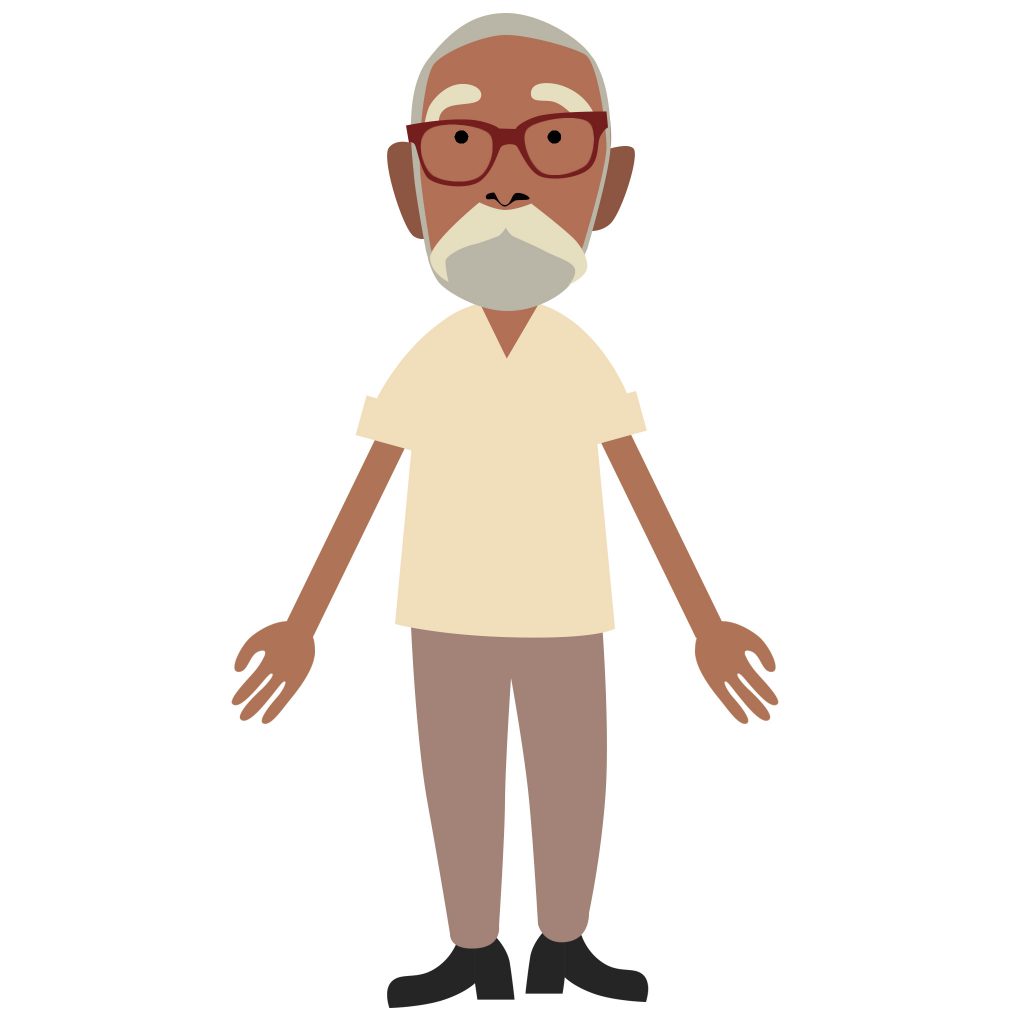 Mr A is an 83 year old man with a 20 year history of persistent back pain following a spinal infection.
He has been taking 2x co-codamol 30/500mg twice daily for nearly 20 years.
Mr A kindly agreed to take part in a PROMPPT pain management review as part of the in-practice testing.
During the review, the practice pharmacist explored the effects of co-codamol with him using the 4A's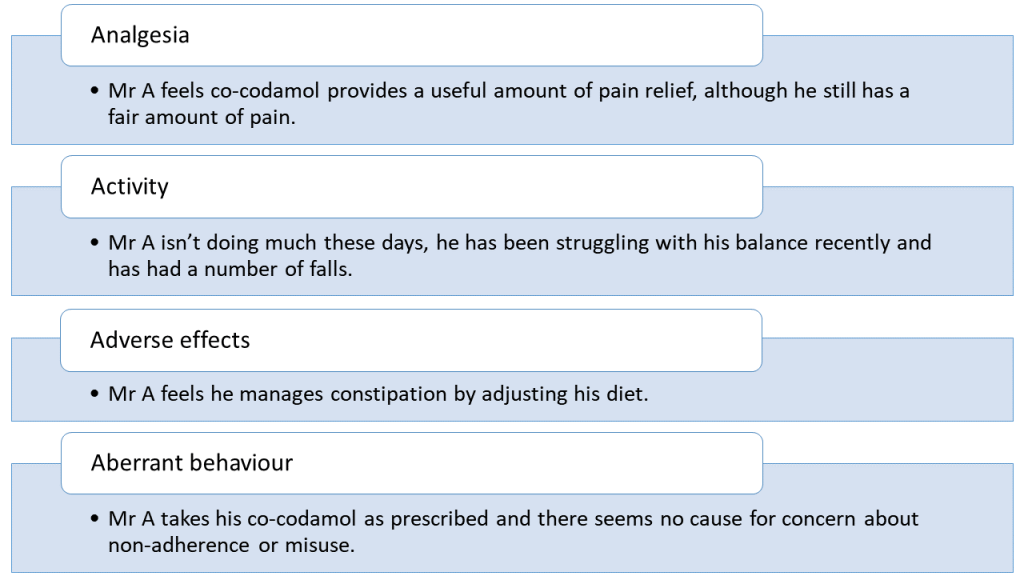 Mr A was initially defensive when discussing the co-codamol and worried that they would be stopped. The Practice Pharmacist explored his problems with balance and falls and explained how co-codamol could contribute to this. They discussed the possibility of trying ' a little experiment' to see whether a small reduction in co-codamol changed his pain at all and whether there was any improvement in his balance.
Agreeing a tapering plan
They discussed which dose might be easier to try reducing first- Mr A decided on the morning dose.
They agreed to try reducing the morning dose of co-codamol by replacing one of the co-codamol 30/500 with one paracetamol 500mg.
His starting dose = 4 x co-codamol 30/500 = 120mg codeine = 16mg MED
Reducing to 3 x co-codamol 30/500 = 12mg MED. This is a 25% reduction and the lowest reduction possible without changing the strength of co-codamol.
Follow-up
A follow-up appointment was arranged after a few weeks and Mr A reported that his pain has not changed so he was happy with the change that had been made and hopefully Mr A will progress further with the opioid taper, without any adverse effects on his pain.
Learning points
No win is too small (Mr A has already reduced his opioid use by 25% after all) and no level of opioid use is too insignificant to be addressed.
This case also highlights the importance of finding an issue that motivates a patient to consider change (i.e. concern about falls) and using a shared decision making approach to arrive at a plan which feels acceptable to the patient. Mr A was quite happy to take part in 'a little experiment'.
A lot of attention is directed towards high dose opioid use – and that's important of course, but helping people on low dose opioids to reduce or stop them is also very important. Tackling low dose opioid use helps prevent escalation to higher doses and stronger opioids. It is also particularly important in elderly patients who become increasingly prone to side-effects and are at risk of serious trauma from falls, even with low doses.
Ms B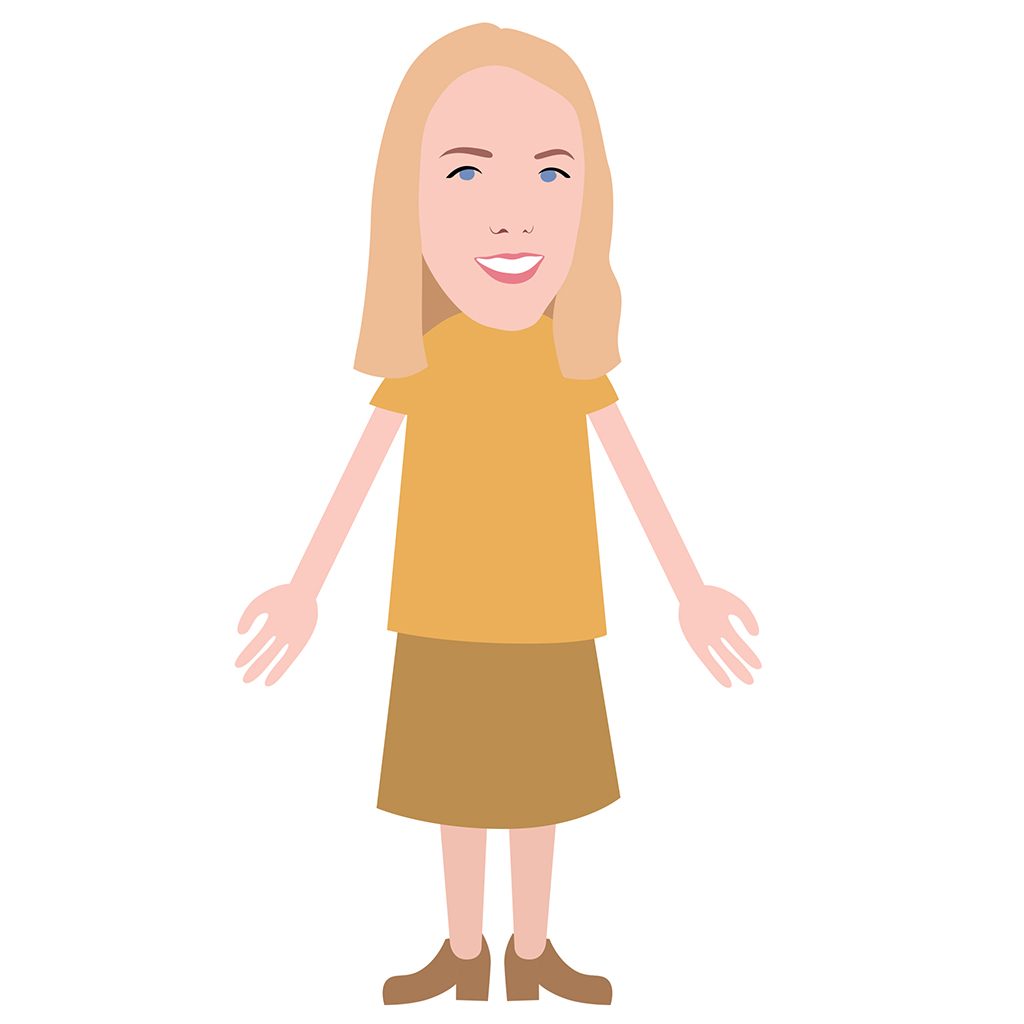 Ms B is a 38 year old with a 2-year history of chronic back pain following an injury sustained at work. During this time she has accumulated a cocktail of opioid analgesics and has escalated rapidly to very high doses as listed below and in addition she takes Paroxetine 20mg once daily and Temazepam 20mg at night:
Morphine immediate release tablets 140mg (2x50mg + 2 x 20mg) 5x daily = 700mg/day
Morphine oral solution 10mg/5ml PRN (300mls per week = average 85mg/day)
Dihydrocodeine 60-90mg PRN (8 x 30mg tablets daily = MED 31mg)
Codeine 60mg prn (8x30mg daily = MED 31mg)
Estimating the MED using the ANZCA app gives a total daily MED of 847mg (note that the app does not include dihydrocodeine & the conversion factor for codeine can be used instead). By any standards this is an extremely high daily opioid dose and was flagged up by the CCG medicines optimisation team as a cause for concern and her employer has also indicated that she will not be able to return to work until her opioid use is under control. The patient was referred to a local community pain service. The consultant there explored the effects of opioids according to the 4 A's.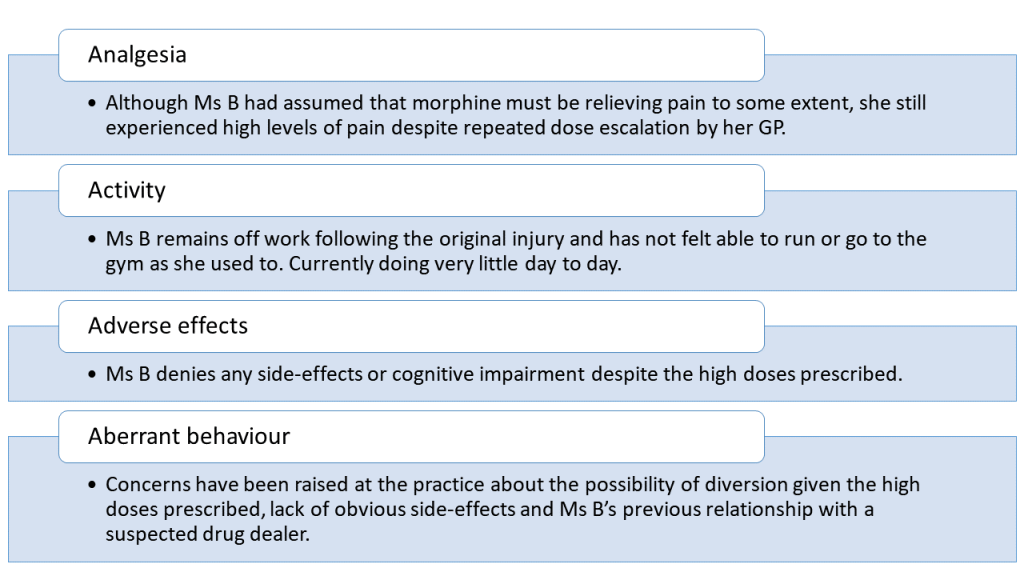 Ms B was initially very reluctant to consider reducing the morphine and angry that her own GP had prescribed the current high dose and now her job was on the line. She could not see a way to reduce morphine given the severity of her pain. However during the discussion about the impact of pain on her life, Ms B acknowledged that taking high dose opioids hadn't helped her return to exercise or regain her fitness as she had hoped and neither had it enabled her to return to work, which was her main goal for the future. The possibility that high dose opioids can contribute to worsening pain and quality of life was discussed and seemed important motivators to change for Ms B, but she remained resistant. Further exploration of her concerns around opioid reduction revealed that Ms B had previously worked with substance abusers in the past and feared that she would experience the same sort of withdrawal symptoms they had described. Following reassurance about the low risk of withdrawal symptoms with gradual tapering, Ms B agreed to try reducing her opioids.
Agreeing a tapering plan
As Ms B was taking a combination of different immediate release opioids and preferred to begin by reducing the morphine liquid (oramorph), so rather than converting the oramorph to more immediate release tablets, it was agreed that she would begin by gradually reducing the amount and frequency of oramorph use, with the supply reducing to 100mls per week for 2 weeks before stopping. This equated to a less than daily10% MED reduction in the initial weeks of the taper to build confidence. She was reviewed at intervals of around 6 weeks by the consultant and in the meantime the GP practice followed the agreed plan, prescribing at weekly intervals
Ms B managed to wean off oramorph without any change in pain within 3 weeks and agreed to continue by tapering the morphine tablets. At intervals of 2 weeks, each dose of morphine was reduced by 20mg (5×20 = 100mg daily dose reduction = 12% of the starting MED approx). After 3 months Ms B had reduced to morphine 40mg 5 x daily (200mg / day) and had reduced codeine to 30mg qds , continuing dihydrocodeine 60mg qds (total MED 247mg down from 847mg). Although Ms B's back pain persistent, she reported no worsening of her pain as a result of the opioid taper. Her mood had improved somewhat and she had organised a holiday with her daughter. The opioid taper was slowed as the daily dose reduced. In the next phase she agreed to reduce each dose by 10mg (50mg / day) at fortnightly intervals for 1 month and then by 10mg / day (10% of the remaining dose – reducing 10mg from 1 dose) at fortnightly intervals. After 6 months, Ms B had successfully stopped her morphine, without any worsening of her pain and reported improved mood. Most importantly she was able to regain her driving license and return to work.
Learning points
Whether a patient is prescribed co-codamol 8/500 or takes huge doses of morphine, the principles are the same. You need to find out what might motivate your patient to try reducing opioids (for Ms B a desire to return to work) and what is holding them back (for Ms B, fear of withdrawal symptoms and worse pain).
The very high morphine dose in this case may seem extreme but it is based on a real patient. Patients like these are often the ones that come to mind when thinking about reducing prescribed opioids however patients on very high doses are a minority. Whilst they can be extremely challenging, high dose alone does not necessarily mean success is less likely and the potential benefits are greater.
Patients on high dose opioids are more likely to be suspected of opioid misuse. Building trust with these patients is important, and the first step is for them to feel believed. Ms B's story was accepted at face value. The important thing was that she agreed to an opioid taper and, with appropriate safeguards in place at the practice through weekly prescribing, there was no need to ask further questions relating to the possibility of diversion. On the contrary, this most likely would have adversely affected the clinician patient relationship and quite possibly the clinical outcome.