Pacing and getting active
Listen and watch the presentation below for some tips that may help you to support your patients to live with pain by changing the way they do some of their activities using the strategy of pacing and by getting active.
Planning for setbacks
Persistent pain is often unpredictable, both in terms of location and intensity of pain and this can be frustrating and distressing for patients. Set-backs are common and often occur for no apparent reason.
A setback can result in momentary lapses in progress or could result in a step-back in terms of the readiness to make further changes and an important strategy is to have a set-back plan (see figure below).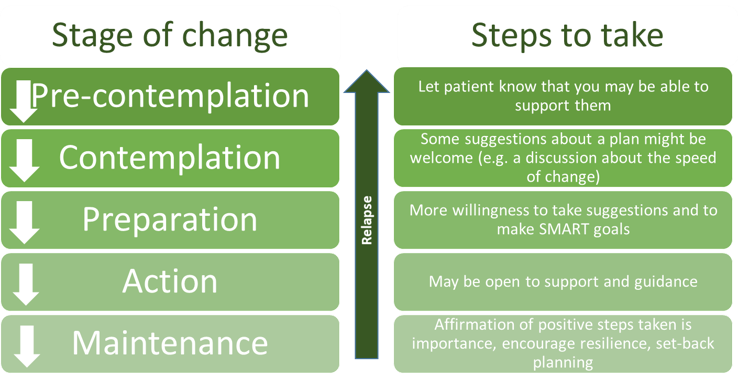 Patients often ask whether they can go back on a medicine or increase the dose of the medicine if they have a set-back. If this does happen, it can be of some value to validate the individual patient's concerns and to reflect on why they agreed to make a reduction in the first place. In the first few weeks of an opioid reduction some patients do experience an increase in their usual pain and some information (verbal and/or written) on what to expect may help them plan for this.
Useful tips to get a patient back on track
If a patient does have a set-back the following may be useful tips to help get them back on track:
Reassurance that set-backs are common and part of adjusting to life with pain, which can be unpredictable
Re-evaluate whether the patient is ready to make further changes and what support is required
Revisit and re-validate the self-care strategies (planning, prioritising, pacing, distraction, relaxation, getting help, being active) that work well for the patient and offer reassurance that these strategies are helpful
Encourage patients

to make time to do the things they find comforting and soothing
There may be a point when you agree to pause on a reduction, especially if other life stressors are placing extra demands on how they use their personal resources and this decision may be made with the GP.