A natural and often first response for patients when talking about the possibility of reducing their regular opioid use is to ask "what else?" there is for their pain. In the PROMPPT Foundation Course we introduced the concept of the pain cycle and the route out of this cycle through self-care.
For a reminder, here is the pain cycle and the alternative route, which is self-care: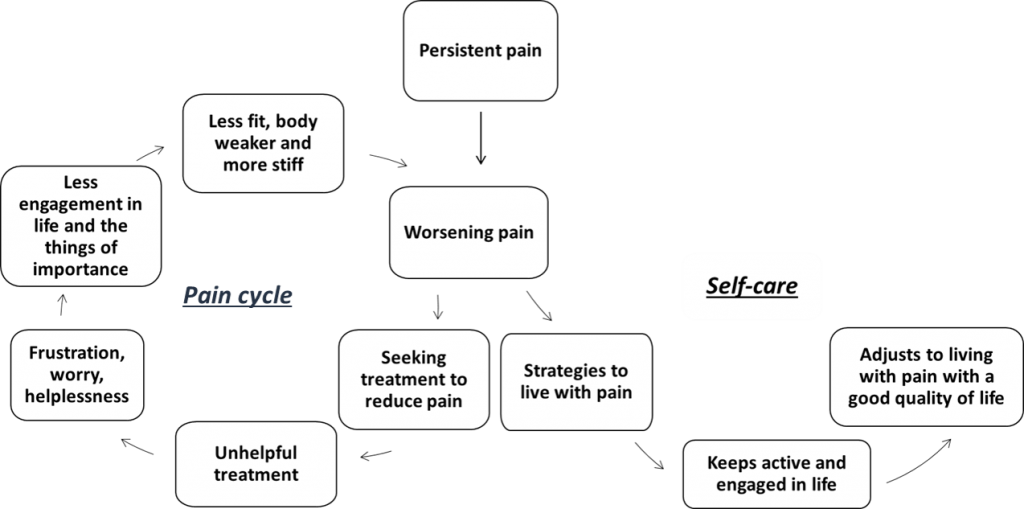 We know that it can feel difficult to shift the conversation away from pain control to focus instead on the self-care. This lesson explains how you can support the patient to move away from a passive approach (taking pain medicines/ having treatment done to them) towards an active approach whereby they learn to live well with pain using self-care strategies.
Listen to the videos below for some tips to steer the conversation away from pain and towards self-care.
Now listen to this consultation between Dr Tim Williams and his patient.
5-minutes into the consultation, he asks the patient whether she does anything to help her get by with the pain and this leads to a useful discussion about self-care.