PROMPPT is for…
Clinical pharmacists working in primary care teams
Clinical pharmacists working in GP practices (practice pharmacists) are a rapidly expanding part of the primary care workforce.
With expert knowledge in medicines, practice pharmacists are ideally placed to take a proactive role in reviewing and managing patients on long-term opioids for persistent non-cancer pain. However, there is currently no evidence about how practice pharmacists should do this or whether a proactive pain review for patients on long-term opioids would be clinically and cost-effective.
PROMPPT aims to develop and test a new practice pharmacist-led pain review delivered in primary care, with the aim of improving the care people prescribed long-term opioids for persistent pain receive.
How are pharmacists involved in PROMPPT?
Practice pharmacists are involved in every stage of the PROMPPT research programme, from developing this complex intervention (the pain review) to testing its efficacy and effectiveness.
Work phase 1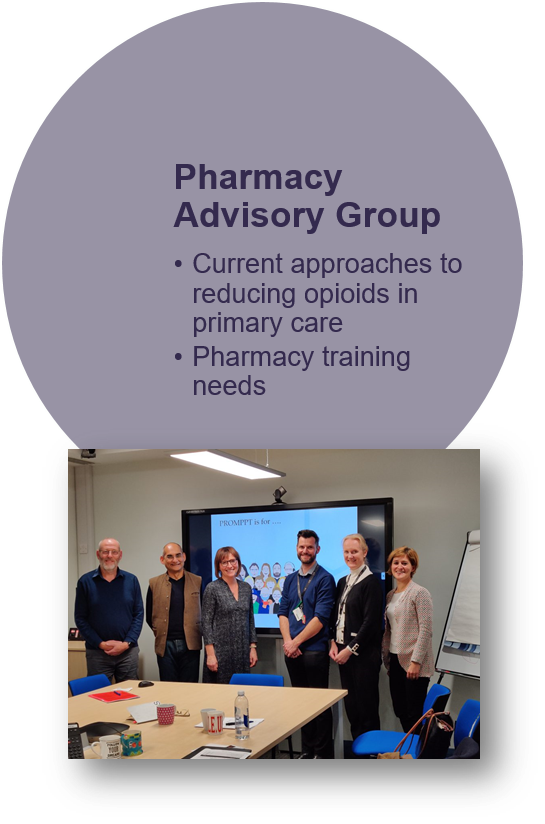 Practice pharmacists, patients and other healthcare professionals with relevant expertise, together with a multidisciplinary health research team at Keele University, collaborated to develop the new pain review.
The research team listened to the views of practice pharmacists, along with GPs and patients, around how to best support patients with persistent pain in primary care
A pharmacy advisory group was established to review best practice and current approaches to reducing opioids (where appropriate) and identify pharmacy training needs
Together, these views were used to develop the pain review and an associated practice pharmacist training package
Initial testing and refinement of the pain review was conducted with help from three West Midlands GP practices and their pharmacists.
Work phase 2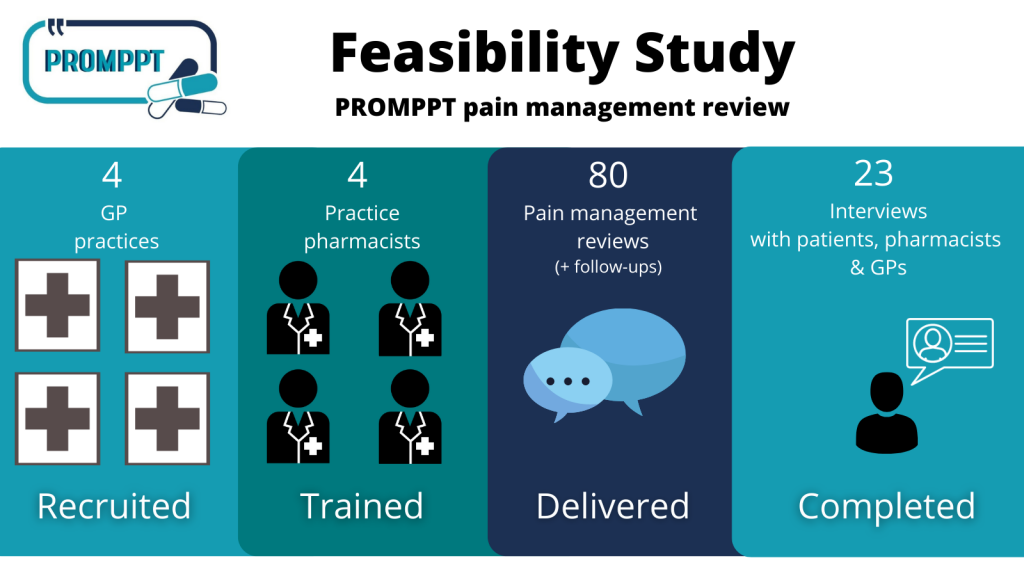 A feasibility study involving four practice pharmacists tested:
whether patients invited to a pain review would book and attend an appointment
whether the training package was acceptable to practice pharmacists delivering the review
whether the pain review was acceptable to GPs, practice pharmacists, and patients
Practice pharmacists delivered 80 initial pain reviews.
Questionnaire and interview data supported the feasibility of the new pain review and recommended testing in a randomised controlled trial.
Work phase 3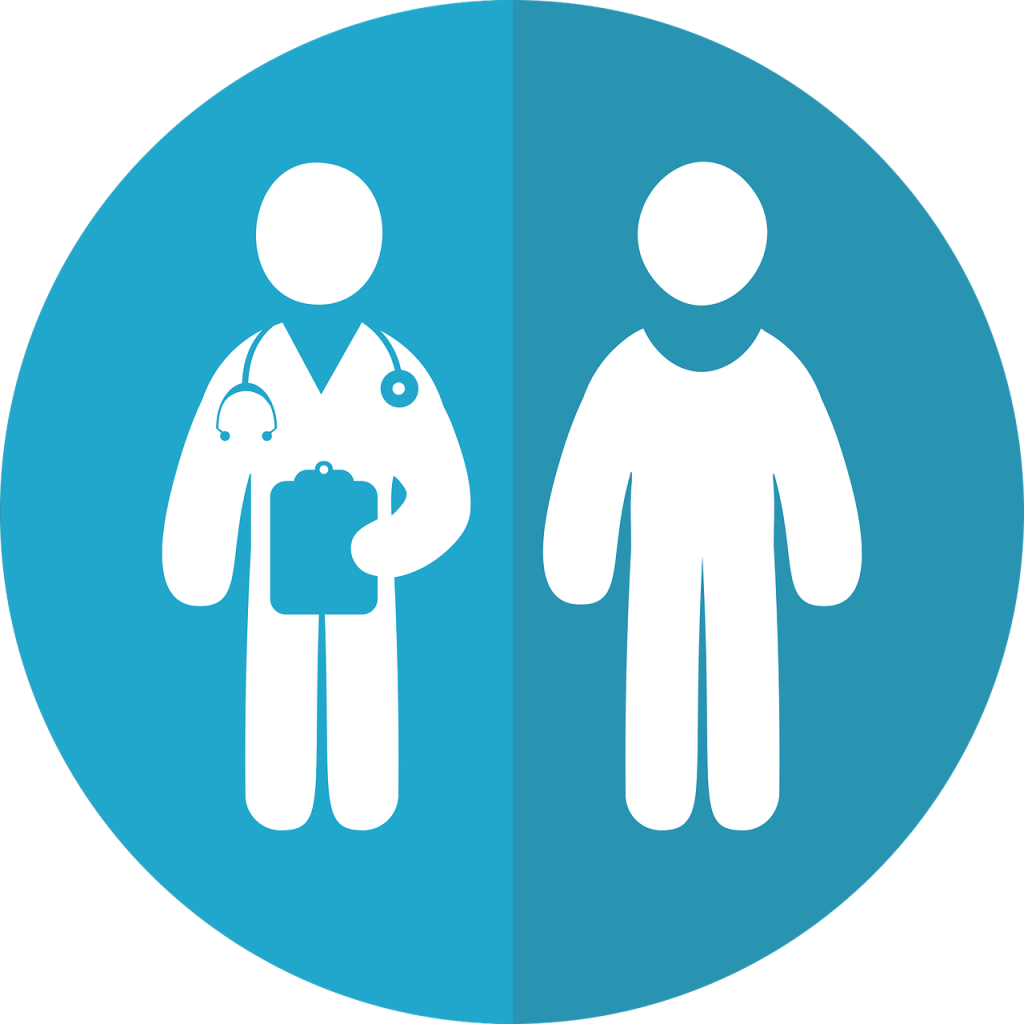 Approximately 30 GP practices, from the West Midlands, East Midlands, Wessex and Thames Valley regions, are currently being recruited to take part in a randomised controlled trial. The trial will test whether:
patients who attend a pain review (and follow-ups) are more likely to reduce their opioid use (without increasing pain/pain-related interference) compared with their usual care
providing practice pharmacist-led pain reviews (taking into account the pharmacist time needed for training and conducting the reviews) is cost-effective compared to usual GP practice arrangements for review of patients on long-term opioids
How can I get involved?
The PROMPPT research programme is currently looking for primary care practices to take part in a randomised controlled trial to evaluate the effectiveness of a new proactive pain management review led by practice pharmacists.
Who can take part?
If you can answer YES to the following questions you may be eligible to take part in the PROMPPT research programme:
Is your practice based in the West Midlands, East Midlands, Wessex or Thames Valley?
Does your practice have a practice pharmacist who is an independent prescriber?
If you think your practice might be eligible to take part and you would like find out more, please email the PROMPPT study team at: sch-tr.studypromppt@nhs.net